Jeep Cherokee Roll Over
Jeep Grand Cherokee Found 'Fatal' In Evasive
Maneuver test
 The 2012 Jeep Cherokee was awarded top safety ratings from the Insurance Institute for Highway Safety. But, a Swedish car magazine found the 2012 Jeep Cherokee was very unsafe in the rollover safety department.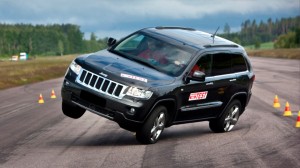 The evasive maneuver test, moose test (or elk test), is made to determine how well a certain vehicle evades a sudden obstacle.  In reality, the test is rather constructed to simulate, for example, a reversing car or a child rushing out onto the road. When the jeep Grand Cherokee preformed this test it stood up on two wheels when it swerved at LESS THAN 40 mph.
By hiringStephens & Stephens, you can help protect your legal rights.
There are lots of questions after you or a loved one is injured. Let us help you find the answers.  Call us today at 713-629-1111 or 512-328-9999, or fill out our contact form.